Publishing is a form of sincerity
Juergen Boos in Conversation with Andreas Rötzer
Publishing is a form of sincerity, says Andreas Rötzer, head of the publisher Matthes & Seitz Berlin since 2004, and an independent publishing house will only succeed if it is able to build trust in the quality of its books. In conversation with Juergen Boos, director of the Frankfurter Buchmesse, Andreas Rötzer tells us how he has managed to do this time and time again.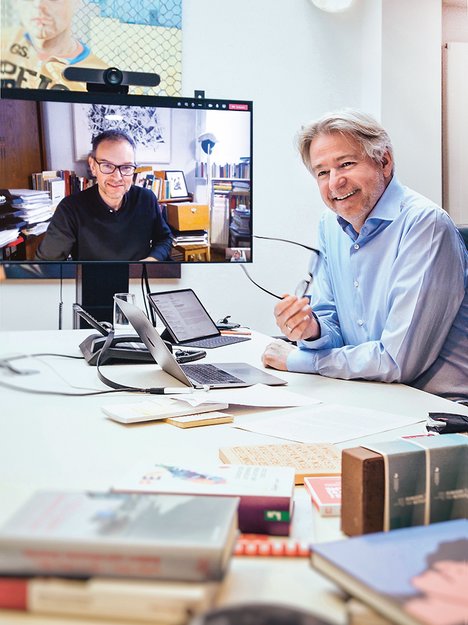 © Marcel Gregory-Stock
JB: You once said in an interview that as an independent publisher, you are at the mercy of the market. What did you mean by that?
AR: What I meant was that we're not a subsidy publisher: we have to hold our ground in the marketplace and finance ourselves through sales. Whenever we have a success, the proceeds are invested in new books. I've always given myself the freedom to publish books that aren't profitable, too, though – books that are very important in terms of our programme. But if you adjust your expectations a little, it's perfectly possible to operate in a commercial way.
JB: Can you shape the market yourself – or create your own market?
AR: That's what we managed to do with our 'Naturkunden' ('Natural Histories'). If you're lucky, you can capture the zeitgeist without becoming a slave to it. Ideally you want to come up with an innovation that's capable of succeeding on the market. We also managed to do this with our 'Fröhliche Wissenschaft' ('Joyful Wisdom') series; once again, we created a market for ourselves.
JB: You do see some publishers that are financed partially by donations from patrons – but that's precisely what you don't want, is that right?
AR: For our 'Natural Histories', which have huge production costs, we were kindly awarded generous start-up funding to mitigate some of the risk, and to make the series possible at all. But I think the quality of a book is actually improved when it has to prove itself on the market. Of course, there's a high level of risk involved, and tremendous effort required – on an ongoing basis. But the danger or the temptation of allowing publishing to become 'art for art's sake' would otherwise be too great. I always see publishing as a political act as well, because it's an act of public expression. We want and need our texts to reach an audience, and we want to publish books with genuine social relevance.
We want to publish books with genuine social relevance
JB: So the important thing is that the book should last?
AR: Yes – the idea is not to produce a consumer good, i.e. an item that people consume and then replace, but something long-lasting. That sounds very grand, but to me a book isn't something that gets 'used up': it can be fed back into the market again and again because it's very durable, both in physical terms and in terms of its content. And that's what I want Matthes & Seitz books to be.
JB: We've already talked about two of the thematic areas where you've been very successful – is there another major theme in the pipeline?
AR: Over the next few years we're going to be publishing books relating to China. That's a new theme we're engaging very closely with at the moment.
JB: Social policy with regard to China, or …?
AR: Literature from China and also titles about China and about the whole of the Asian region, which of course is a vast area that I myself have yet to explore.
JB: Isn't it hard to find people with expertise in that field?
AR: In 2012 I went to Taiwan for the first time, and that's when it really hit me what an important continent Asia is – not only economically but also culturally and socially – and how inadequately represented it is in this part of the world. But it also interests me a great deal personally, and that's reflected in our list. The expertise is extremely difficult to come by, because you have to have an international network of people who know their stuff and can give you advice.
Books are longlasting, they can't get 'used up'
JB: But you don't only publish young authors – I'm thinking of Joshua Groß and Jakob Nolte – but also authors who've been published before, like Anne Weber, who has now gone on to win the German Book Prize. It's clear that your publishing house has the power to get people talking about an author again, to make an author topical again. The same sort of thing happened with Joshua Groß. His work had been published before, but then he came to you and suddenly things really took off.
AR: It would be nice if that was always how it went, but it's basically just a gamble every time. When it does work out, though, perhaps that does have something to do with the credibility we've acquired, and the context provided by our other authors. The diverse range of authors on our list is important. We've got canonical authors, new authors, established authors – one illuminates the others, so to speak, and draws attention to them. This also helps people rediscover previously lesser-known authors.
JB: Does your list feature many translations?
AR: I'd say about half our titles are translations – perhaps a little less than half now. We publish 100, 120 books a year, and around 40 to 50 of those are translations. So quite a large number, yes.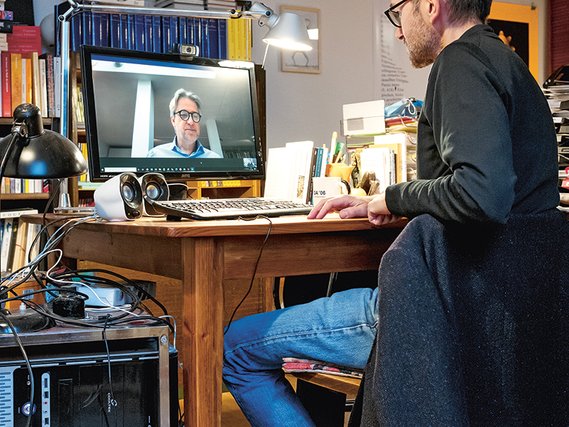 © Christian Werner
JB: In English-speaking countries, translations are often shunned – they cost a lot, and they don't tend to sell well. It's very different in Germany, where around 30 percent of all fiction titles are translations.
AR: Although it's not a one-way street – we do also sell quite a lot of our titles abroad. Particularly philosophy, but also literature. And we're doing very well in that regard these days. Partly thanks to international networking, and not least the Frankfurter Buchmesse.
JB: I'll tell the team at the Buchmesse that – they'll be very pleased to hear it. How did Anne Weber sell in other countries?
AR: By the end of 2020, we'd sold ten foreign rights licences.
JB: It won't be an easy book to translate.
AR: It's really quite difficult to capture the book's complexity. Something could easily get lost in translation. So it will be a big challenge for the translators. But things are still going well, and we're set to sell the rights in even more languages.
JB: How important is the review section to you?
AR: Very important, because it attracts authors. And it helps get more people talking about our themes.
JB: And how do you reach your readers directly, what sets you apart in that regard?
AR: One guiding principle I think we as a publisher must never lose sight of is the fact that we represent a kind of sincerity. A small publishing house only stands a chance if it can build trust – trust in the quality of its titles – and that's what we've managed to do in recent years.
JB: Mr Rötzer, thank you very much for the conversation.