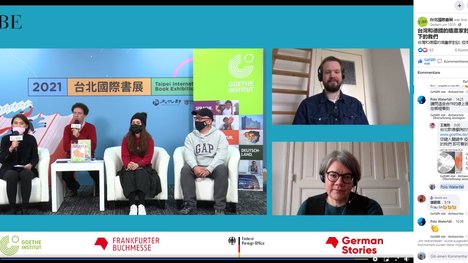 - (Europe/Berlin)
German, Chinese
My World in Crisis
The coronavirus has plunged the whole world into an unprecedented state of affairs. Many aspects of day-to-day life that we used to take for granted have changed or become completely impossible, such as going to work, meeting friends in person, participating in cultural life or traveling to other parts of the world. In times like these, dialogue and exchange are more important than ever. Illustrators from Germany and Taiwan share their perspectives (sometimes humorous, sometimes more thoughtful and reflective) on the world during the Covid-19 crisis, and provide personal insights into the situation in the two countries.
The Goethe-Institut Taipei has invited four illustrators from Germany and Taiwan to participate in the discussion. These illustrators previously took part in the 2020 web project My World in Crisis (Meine Welt in der Krise). 
The event is organised in cooperation of Frankfurter Buchmesse and Goethe-Institute Taipei with financial support of the German Foreign Office. 
Missed it? No worries, find the recording here.
We can be found here