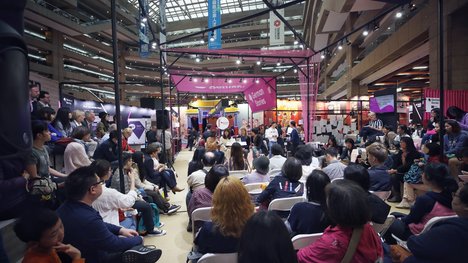 - (Europe/Berlin)
German, Chinese
The Night Was Pale, the Lights Were Twinkling with Emma Braslavsky
© Image by Terry Lin
In her 2019 novel Die Nacht war bleich, die Lichter blinkten (The Night Was Pale, the Lights Were Twinkling), Emma Braslavsky confronts a terrifying dystopia of technological innovation.
Berlin is thriving thanks to the Hubot industry. Robotics companies produce artificial partners indistinguishable from real humans; it's now possible to satisfy any relationship desire, and unrestricted private bliss and the complete abolition of loneliness are on the verge of becoming reality. But the number of suicides has increased tenfold – for although the Hubots have mastered the art of simulating love, they can't take any responsibility for those they live with.
The novel is an urban fairy tale and crime story in one. Witty and fast-paced, it describes the radicalisation of the individual, the fine line between natural and artificial life, and the omnipotence of algorithms.
The event is organised in cooperation of Frankfurter Buchmesse and Goethe-Institute Taipei with financial support of the German Foreign Office. 
Missed the event? No worries, find the recording here.
We can be found here