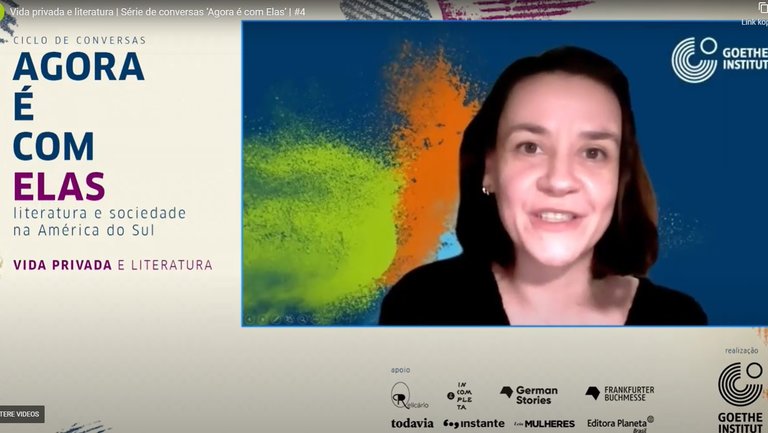 Is literary writing allowed to retreat into the private in time of conflicts?
Agora é com elas / Ahora es con ellas Literature and Society in South America
In addition to individual experiences, literature always reflects the conflicts and differences within a society. In doing so, literature has the potential to change societies in the long term, to shift collective ideas and to introduce new thoughts.
In this series, writers from South America and Germany come together to discuss the relationship between society and literature. How do the authors reflect conflicts in their works? How can we talk about violence in literature? Can literature transform societies?
Qual a relação entre a representação da esfera privada, há tempos não mais entendida como apartada da política, e o corpo social como um todo? Participe desta encontro online e conheça mais sobre a escrita literária e vida privada.
Para assistir, basta acessar esta página em 23/10, às 13h.
Adicionalmente, você pode assistir pela página goethe.de/brasil/agoraecomelas.
Com:
Cidinha da Silva (Brasil)
Ariana Harwicz (Argentina)
Mediadora: Adriana Couto (Brasil)
O debate faz parte da série "Agora é com Elas", iniciativa conjunta dos institutos Goethe de Buenos Aires, La Paz, Lima, Porto Alegre, Rio de Janeiro, Salvador, Santiago e São Paulo, com o apoio do coletivo Leia Mulheres, das editoras Relicário, Incompleta, Instante, Planeta e Todavia, e da Feira de Livro de Frankfurt.
O encontro terá interpretação simultânea ao espanhol, Libras e português.
Para saber mais, acesse goethe.de/brasil/agoraecomelas.