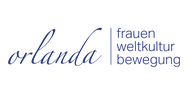 Orlanda
Orlanda Verlag was founded in 2017. Women | World Culture | Migration are the main topics of our program. We are publishing fiction, non-fiction and since 2021 also children's books.

Based on our basic topic of women and the illustration of feminist matters, Orlanda is dedicated to topics relating to a world in motion and offers space for deeper thoughts and insights in order to broaden the view of a world as a whole, a world which belongs together. We want to encourage the discourse for a positive further development of the world without prejudices and ready-made opinions – regardless of origin, worldview, gender, sexual orientation and skin color - and thus contribute in the search for orientation in a globalized world.

Orlanda was awarded a German Publishing Prize 2021.
Annette Michael
Publisher
Publisher Website