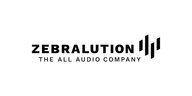 Zebralution
ZEBRALUTION was founded in 2004 as the first digital distributor for independent music labels in Europe. We operate from eight offices in six countries with dedicated operations, marketing and business teams, and provide distribution and marketing services to over 450 music labels and audio publishers from around the world.

Since 2010, we have been able to develop new exploitation models for audiobooks and audio dramas and this segment has grown to become as big as our music business. We are committed to staying at the forefront of innovation of audio as a content format and in 2018 have created a subsidiary for podcast distribution and monetization under the zebra-audio.net brand. With the acquisition of our long-time platform partner Encoding Management Service – EMS in 2019, we have also become one of the most recognized service providers and developers of technology for digital media distribution.

ZEBRALUTION had been acquired by Warner Music Group in 2007 but in 2017 the company´s founders were able to enter into a management buy-out deal as part of a divestment package negotiated by IMPALA and MERLIN following WMG´s Parlophone acquisition. Since December 2019 German music copyright collecting society GEMA is our majority shareholder. We are therefore now an independent company with no venture capital or major label backing required.
Kurt Thielen
Publisher Website