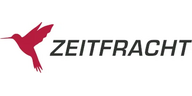 Zeitfracht Wholesale and E-Commerce
Zeitfracht (formerly KNV) offers a single-vendor solution for all available German titles and a wide selection of international titles.

We permanently store more than 600.000 titles from over 5.000 German, Austrian and Swiss publishers. In addition we offer a wide selection of international titles - primarily in English but also in further European languages namely French, Spanish and Italian. This is completed by our print-on-demand selection including over 1 million German and international titles.

Furthermore all titles published in German-speaking countries can be procured by Zeitfracht quickly and efficiently.

Zeitfracht offers full service range stretching from various options for data feeds to fast and reliable delivery service.

Beyond that Zeitfracht is committed to offer innovative products and services, strong customer relations and sustained mutual success.
Publisher Website