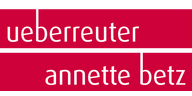 Ueberreuter Verlag
Ueberreuter was founded by the Salzer family in 1946. In spring 2012 Ueberreuter moved from Vienna to Berlin. Since January 2014 Ueberreuter Kinder- und Jugendbuchverlag and Annette Betz share a joint management with G&G Verlag in Vienna, but remain situated in Berlin.
Annette Betz publishes picture books, combining high literary and artistic quality.
Ueberreuter Kinder- und Jugendbuch publishes realistic and fantasy literature for children and young adults.
Julia Balogh
Head of Foreign Rights
Publisher Website