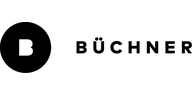 Büchner Verlag
"Büchner-Verlag was founded in 2008 and publishes academic literature as well as non-fiction books. We are a small, independent publishing company (situated between Frankfurt and Kassel) which is organized in a cooperative structure. Our interest lies in innovative works from the literary, cultural and social sciences with a special focus on media and film related titles. Since 2017 our non-fiction program offers a platform for food-for-thought titles which critically discuss relevant themes of our times.
Honors
The ambitious 2017-relaunch of Büchner-Verlag was granted the Hessian Publisher's Prize (category start-up) in the summer of 2018. In 2020, a jury granted the publisher the seal of quality of the German Publishing Award.
Since December 2018, Büchner-Verlag is accepted as a member of the Friends of the Kurt Wolff Stiftung."
Ina Beneke
Publisher Website