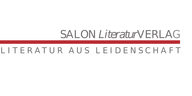 SALON Literaturverlag
SALON LiteraturVerlag was founded in 1997 by Ulrich Gschwendtberger and Franz Westner.
In the spirit of early literary salons, the publications of SALON LiteraturVerlag are intended to offer high-level entertainment and also to provide food for thought and promote social openness. We are committed to humanitarian cooperation.
After the retirement of Ulrich Gschwendtberger at the end of 2013, SALON LiteraturVerlag was expanded to include a publishing advisory board. The publishing advisory board advises and supports the publishing house, which has been owner-managed by Franz Westner since then, in programme design and marketing. As an economically independent publishing house, all decisions are made in the spirit of innovative literature.
The focus is on social novels with historically relevant references as well as publications that break new literary ground. We are particularly proud that we were able to have the highly acclaimed five-volume epic "The Last Report of Atlantis" by the award-winning Hungarian author Gábor Görgeys translated from Hungarian into German and published by SALON LiteraturVerlag. 2012 the highly acclaimed novel "Der bleiche Tod der Sarazenen" (The Pale Death of the Saracens) by Wolfgang David about the Italian campaign of the young Emperor Otto II was published, and in 2014 "Die Armenierin" (The Armenian) by Thomas Hartwig, an epic poem about the expulsion and murder of Armenians in 1915/1916 in Constantinople and Anatolia that has been reprinted several times. Other books of importance are the novel "Hoywoj", which tells the story of the minority of Sorbs in Lower Lusatia, as well as the life's work of the Italian inventors Barsanti & Matteucci, who heralded the development of the combustion engine ten years before Otto.
It is important to us to exhibit annually at the Leipzig Book Fair and to present readings of our new publications there, as well as to be present in collaborations at other national and international book fairs. We are very pleased that our literary commitment has been confirmed in 2019 with membership of the Kurt Wolff Foundation's circle of supporters. Our credo is:
"Literature opens horizons. Let us give wings to thoughts."
Franz Westner
Publisher Website