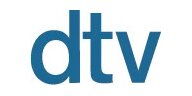 dtv
dtv is one of the largest independent publishers in the German language and our titles are to be found in the bestselling lists regularly.

dtv has been in business since 1961 and was originally founded with the sole purpose of publishing paperback licences from other publishers. Nowadays, the vast majority of our books stem from dtv's own authors.

Between 400 and 500 titles are published each year. The broad spectrum of dtv's lists presents international and German fiction both literary and commercial, non-fiction and self-help as well as books for children, teenagers and YA.

These lists cover all formats: hardcover, trade paperback, paperback, mass market editions and ebook.
Publisher Website