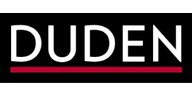 Duden
The Duden-portfolio comprises dictionaries, titles about German as a foreign language, advice manuals, a broad range of educational titles as well as a list focusing on parenting.

Since more than 130 years, Duden is the main authority when it comes to questions concerning German grammar and orthography. Duden publishes the most renowned German monolingual dictionaries and stands for highest lexicographical quality.

But Duden is much more. About 30 years ago Duden also started to publish high quality educational titles for pupils of all ages covering all the different school subjects. After school university students are supported by different Duden titles while writing their term papers or final thesis.

Also pupils of the German language find support - in the titles about German as a second language.

And yet even before the start of school life, parents can find titles in the Duden program which help preparing their children in kindergarten in a playful and entertaining way for what awaits them in school.

Besides those broad educational ranges, not long ago Duden started a small but fine general non-fiction list with a focus on parenting and child-parent-communication.
Angela Schaaf de Lavado
Rights Director
Publisher Website