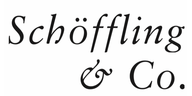 Schöffling & Co. Verlag
Schöffling & Co. is an independent publisher of German and international literary fiction, memoir and poetry located in Frankfurt. Since 1994, we've been passionate about finding and introducing inspiring new talent as well as connecting readers with some of the finest works of modern German literature.
Our contemporary list brings together renowned and established writers like Burkhard Spinnen and Mirko Bonné as well as new voices like Berit Glanz, Maike Wetzel and Ulrike Almut Sandig. Among our authors in translation are prominent names like Joshua Cohen, David Albahari, Jami Attenberg and Juan Gabriel Vásquez.
Schöffling's list of modern classics includes novels and memoirs by authors like Silvia Tennenbaum, Ulrich Becher or Horst Krüger that represent different experiences and perspectives on German and European history from the 1920s to the post-war years. The tremendous success of Gabriele Tergit's Effingers, an epic Jewish family saga first published in 1951 affirms our belief in the timeless quality of these works.

Marie Jansen
Publisher Website