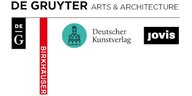 Birkhäuser / De Gruyter Arts / Deutscher Kunstverlag / JOVIS
Birkhäuser, Deutscher Kunstverlag, De Gruyter Arts, and JOVIS are art and architecture publishers.
Birkhäuser is a leading professional publisher for architecture, landscape architecture and design.

The main target groups of the program are design professionals, both in practice and academia, as well as students.
JOVIS publishes titles in the fields of architecture, landscape architecture, city planning, contemporary art, photography, and design.

The Deutsche Kunstverlag is one of the leading publishers in the art book sector with offices in Berlin and Munich.

With our books, we convey well-founded content on a broad range of topics from the fields of art, art history, architecture, monument preservation, photography, arts and crafts, and design.

De Gruyter publishes over 1,300 new book titles each year and more than 900 journals in the humanities, social sciences, medicine, mathematics, engineering, computer sciences, natural sciences, and law.
Publisher Website