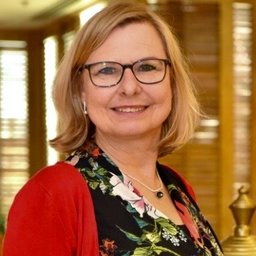 Claudia Kaiser
Vice President Business Development Asia & Arab World
Frankfurter Buchmesse
Claudia Kaiser was trained as bookseller, and has a MA degree in Chinese Studies. She lived in China for more than 10 years, as editor for China Foreign Literature Publishing House, started an agency and, in 1998, set up the German Book Information Centre by Frankfurter  Buchmesse in Beijing, and was its first director.  
She moved on to United Nations Publishing in New York (External Publications Officer, in charge of rights and sales).
She has been in the senior management (Vice President) of Frankfurt Book Fair since 2003, in different positions: head of international department, General Manager of KITAB (Abu Dhabi International Book Fair), head of Cape Town Book Fair, just to mention a few.
As Vice President Business Development of Frankfurt Book Fair she presently looks into the South East Asian markets and South Asia, Arab World and Africa. She is also closely involved in organising the Jakarta Content Week (Jaktent), together with the 17000 islands of Imagination Foundation.