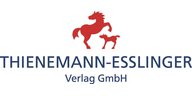 Thienemann-Esslinger
Thienemann-Esslinger Verlag

A merger of the two oldest and renowed children's book publishing houses, merged since 2014 and consisting out of four imprints:

Thienemann
Now and imprint of Thienemann-Esslinger is one of the first German children's books publishers, founded in 1849. We focus on children's and young adult's fiction from board books up to all age novels. Most German classic children's book authors have been published at Thienemann: Michael Ende, Otfried Preußler, Max Kruse, Sebastian Lybeck and Ursula Wölfel. Our best known new authors and illustrators are Daniel Napp, Daniela Kulot and Oliver Scherz.

Planet!
Is an imprint of Thienemann-Esslinger Verlag, founded in 2010 is publishing commercial fiction for 8 up to 14 years old girls and boys. It's most successful series is "Cheeky girls, cheeky books" with 10 Mio. copies sold.

Gabriel
an imprint of Thienemann Verlag and founded in 2000. Gabriel is specialized in fiction and non-fiction with an ethical, philosophical or religious background for children and young adults from 2 up to 14 years. Our best known authors are Jan von Holleben, world-known photographer, famous for his experimental children's books and Oscar Brenifier (German Award for Youth Literature 2012).

Esslinger
Now an imprint of Thienemann-Esslinger Verlag and formerly one of the oldest and most renowned children's books publishers in Germany, founded in 1831. Known for high-quality children's books, picture books, illustrated classics & fairy tales as well as reprints and nostalgic children's books. Best-known picture book characters: "Raven, the little Rascal" and "The rabbit school".

Publisher Website