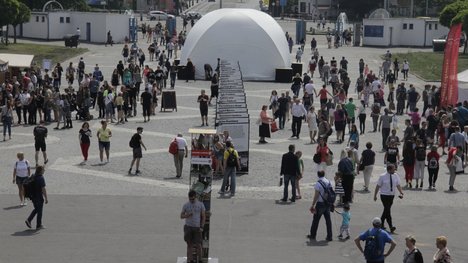 Event time (Europe/Prague)
Location
Prague Exhibition Grounds Atelier Europa
Holešovice
17000 Prague 7
Czechia
Nino Haratischwili, The Cat and the General
Die Katze und der General [Engl. The Cat and the General] is a novel about wars waged between nations as well as in people's minds, about the longing for peace and redemption. Like a Rubik's cube, the fates of the characters twist into each other, around a hidden axis of love and guilt. They all partake in a deadly game in which they collide with the force of a classic tragedy.
Nino Haratischwili is an author whose powerful images dare to delve into pathos. She proves this again in her new novel The Cat and the General, which is based on a true story.
Nino Haratischwili asked herself the following questions: What kind of people are the perpetrators? How can one live with such an act? Can there be any form of justice afterwards? The conversation with Nino Haratischwili and translator Michaela Škultéty will be conducted by Tomáš Dimter.
Exhibition site Holešovice, Atelier Europa
We can be found here